Glasmeisterstraße 10 – 24
Potsdam-Babelsberg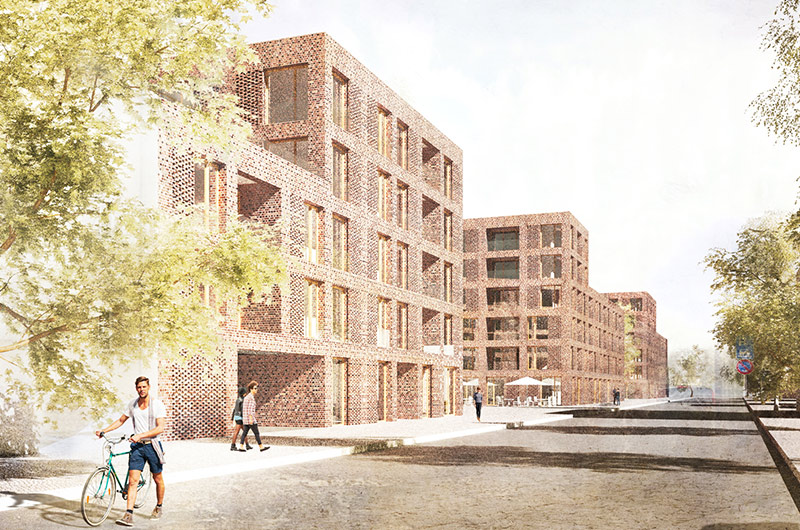 Copyright: Max Dudler
Description
The property on Glasmeisterstraße is located on the site of the former Potsdam-Babelsberg gasworks in the Babelsberg Nord district in the direct vicinity of the southern city centre and is part of Development Plan 166. Development Plan 166 envisages an urban quarter with mixed use. In addition to purely residential use, quiet businesses and offices are also possible on the ground floor. The urban development concept will create noise-robust structures for quiet inner block areas and green spaces, as well as develop future-oriented energy concepts and advanced mobility offers to create an urban quarter that is suitable for all uses.
The immediate vicinity offers a good infrastructure with shops for everyday requirements, childcare facilities, schools and doctors. Public transport connections are guaranteed via tram and bus lines in the immediate vicinity through Rudolf-Breitscheid-Strasse, and also nationally via the Babelsberg S-Bahn station, approx. 400 metres away, with direct train connections to Berlin. Individual traffic is regulated by the Nuthe dual carriageway, an arterial road providing a connection to Berlin and the A115 federal motorway.
Babelsberg Park, a UNESCO World Heritage Site, is a picturesque recreational area on the banks of the Havel river nearby. Development of the former gasworks site is helping to make this part of Babelsberg even more attractive.
Project data
Address:
Glasmeisterstraße 10 - 24
14482 Potsdam-Babelsberg
District:
Potsdam-Babelsberg
Property data:
Use: residential and commercial
Impressions
FAQs
Question
Question
Question
Question
Location